Boarmasters Bear Baits, Lures and Attractants. Check out our products below.
BoarMasters Famous BEAR-LY LEGAL Bear attractants.
The most Productive Bear Attractant Made! 1 oz flavors 50 lbs!
Available in 3 addicting flavors. Our Bear-ly Legal Bear attractant was tested in 5 states by experienced guides for two years before we released it for sale! Back in 2006. It was found to be superior to any other bear bait or bear attractant. Imagine if you could reduce 250lbs of jelly to a mere 4oz of ultra fine powder. It will bring them in and keep them coming back for more! This ultra sweet powder based bait attractant is 100x's sweeter than sugar and has a combination of 5 concentrated flavors that the bear love.
OUR BEAR FEED ADDITIVES ARE GOOD FOR THE BEARS, VERY ADDICTIVE, TRIGGER FEEDING FRENZY, KEEPS THEM HOOKED AND VERY INEXPENSIVE TO — USE COMPARED TO STORE BOUGHT SWEETNERS.
Use it by itself, or use it to supercharge and freshen up your bear bait. Works well to mix with dogfood, breads, popcorn, meats, grains, oats,corn and more. Many use it in their special mash and sucker recipe's as well. One package will supercharge your own recipe (1oz to 50lbs) and goes a lot farther and cheaper than using cups and cups of regular store bought sweetner. One 4oz package will sweeten and flavor a 55 gal drum full of any bait. Great for making expired sweets taste like new again! Available in our single bait station bags or 1lb bulk packs. Larger volumes available on request. Available in 5 powerful flavors! TRIPLE THREAT, REBEL RAZ-BERRY, ACTION ANISE, MELON MAKER and APPLE ADDICTION. Specify at checkout.

BoarMasters Bear-ly Legal Bear Spray Attractants – 32oz
Our Bear-ly Legal Bear Spray Attractants are a favorite among many! This is a spin off of our famous feeding frenzy ingredients and packed into a highly concentrated water proof spray! Use to spray all the forage, trees, in front of barrel for tracking, stumps, and up high for scent travel, basically around your bait sites or hunting areas to draw bears for miles. Also use to spray during your hunt to keep the scent fresh and help cover any human scent in the area. This product sticks to anything, is waterproof and will help draw bears to the hunting site for weeks! Available in 4 powerful 32 oz flavors! Anise, Blueberry, Raz-Donut, Cherry, Bacon and Butter Caramel. Specify at checkout.

BoarMasters Top Predator Pastes
Our Top Predator paste line is also designed using our famous feeding frenzy ingredients! These pastes are highly concentrated, extremely sticky, and your first whiff will even make your own mouth water. Attracts and holds predators. Works great on tree bark, stumps, trap sets and more. Designed for the trappers and states that don't allow baiting or minimal baiting. This paste will stick to whatever its applied to. Most animals will devour anything is touches. Works well with Bears, Racoons, fox, muskrats, beaver, pine martins, and more. Comes in a large 16oz tub with easy removal lid. This stuff is extremely powerful. Please use as directed. A small amount goes a LONG ways! Available in Sweet Surrender and Sticky Passion.

BoarMasters Bear Urine w/Gland 4 oz
BoarMasters Bear Urine is unique to anything on the market. Research has proven that animal glands are a key component to hunting game especially in the rut phases. The estrogen and 'in heat' molecules only last 3-4 days in animal urines before it expires or is less appealing to the chaser. Urine will always cause curiousity but will not hold animals in an area for long if the breeding male realizes the female is gone. The glands however produce 300+ more scent producing molecules than urine alone and will emit scent for 2-3 weeks at a times before expiring. All BoarMasters urines are mixed with gland for a better, longer lasting product that works! At BoarMasters we understand the communication of animals during all phases of the year and we strive to bring you premium products that will provide results! Available in 4oz bottles in SOW IN HEAT and DOMINANT BOAR

BoarMasters Concentrated Conviction Bear Lure

Our extremely powerful and popular Concentrated Conviction bear lure now available for sale direct to you the customer. This is the most powerful concentrated liquid available in the industry. With an over powering, nose burning aroma it will draw bears in for miles! Available in 4oz containers 100% pure product. We do not dilute any of our concentrates to boost margins. You may pay more but you'll get 3 times more coverage. GUARANTEED!
Directions
As with all of our products a little bit goes a long ways! Simply mix 1-2 oz per 5 gallons of choice liquid, fryer grease, molasses or oil. Also works great to apply to scent wiks or cotton balls and drag rags.
Concentrated Conviction FLAVORS INCLUDE (specify at check out)
Caramel Conviction
Beaver Castor Conviction
Anise Conviction
Blueberry Conviction
Bacon Conviction
Warning
Wear rubber gloves and do not apply to clothing or carry on you while hunting. Its extremely dangerous. Due to the effectiveness of this product, BoarMasters accepts no responsibility for accidents and injuries. Use at your own risk.
We sell in small and large quantities from everyday hunters to large hunting corporations. Please contact us if your looking for larger volumes.

Bear-ly Legal Syrup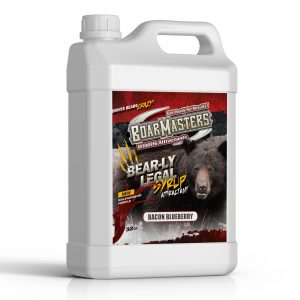 A new Bear-ly Legal product is here, Bear-ly Legal Syrup. This is what bears love. Not only is it sweet smelling, it is sticky!! When a bear leaves your site he will track the smell of Bear-ly Legal Syrup all over the woods. Let the syrup do the work. Bear-ly Legal Syrup is all natural and extra sweet and bears love the smell! Pour contents at your bait site and watch'em lick it up! This is a Bacon syrup with a sweet dash of blueberry! Fills the valley with a sweet salty mixture the bears just cant resist!

Thanks for your visiting and good luck this season!
CLICK HERE TO GO TO OUR ONLINE STORE and shop all or our hunting products.