Boarmasters Elk Urine and Attractants
Boarmasters Super-Hot elk urine is the most potent elk urine on the market. Super-Hot Elk Urine is speed-processed, and filtered, because Boarmasters believes you deserve the best. Available in cow in heat and dominant bull.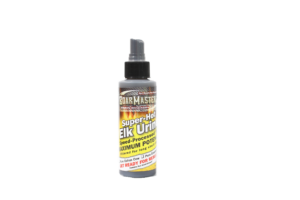 ---
BoarMasters Super Hot COW IN HEAT *SYNTHETIC BLEND
LEGAL in all states that allow use of a synthetic scent. Does not contain traces of natural urine.
Our Elk urines are one of the freshest, purest elk urines available. Our urine is captured from a Rocky Mountain elk farm. These elk cover thousands of acres and eat a main diet of natural foods. The elk used for capturing are not fed corns, supplements a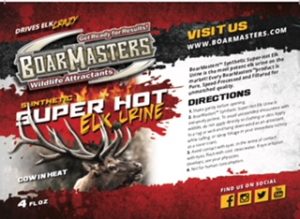 nd sterioids. This is the most natural way to capture and get the real product.
-Speed Processed for maximum potency
-NOT a mixture or blend. PURE COW in heat
-Micro Filtered to remove all dirt and products that cause urine to expire.
-Contains sex gland extract scents

---
ANTLER MATRIX ATTRACTANT AND MINERAL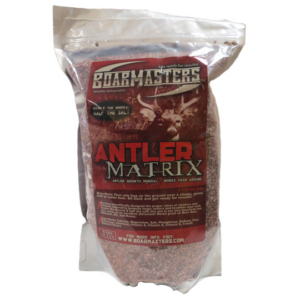 Product Description
Our antler matrix mineral mix is scientifically designed to not only attract wild game but is also VERY beneficial to them. In the Antler growth phase our added nutrients go straight to where they need them. Their head! Wild game need minerals year around, naturally there are minerals in the ground but not enough! Male or female they all need an added mineral boost to really perform and regulate overall health year around. We start our stations in January when the deer are preparing for their next antler phase. We guarantee the deer will go nuts over this mix! If you are not completely satisfied with our mix please contact us for a complete refund! Thats how confident we are with our mineral mix. Directions Rake away and clean a 3′ to 4′ radius. Remove all leaves, grasses ect. Rake up loose dirt just like you were to plant a garden. Mix approximately 4-8 lbs of our mix in with the dirt. Make a slight depression in the ground so when it rains your minerals won't wash away. If your dirt is frozen or hard just do your best. The minerals will naturally leach into the dirt over time. Main thing is to make sure it don't wash away with the rain.

or CLICK HERE TO GO TO OUR ONLINE STORE.