Trapping Wild Boar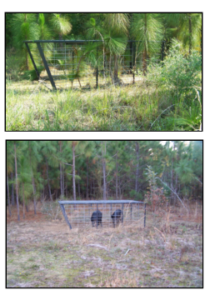 Trapping wild boar and feral hogs can be as challenging as hog hunting for a beginner, and just as fun. There are many different types of hog traps: Swing gates, drop gates, push gates etc. It really does not matter which kind you use; more important is how you use it.
I use just about every trap you can think of for trapping wild boar and feral hogs: homemade, and store bought. Some traps are better than others in certain situations. It really depends on the amount of hogs you want to catch and how serious you are about it.
Getting a feral hog to enter a trap can be difficult sometimes, especially an older wild boar. Camouflage can be your best friend. It will help a great deal to make your trap look as natural as possible. Tree branches can work wonders. Try to match the surroundings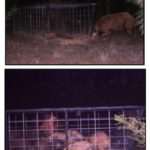 If you like to use portable hog traps, do your best to make the trap look as inviting as possible. Throw fresh dirt inside, weave some fresh cut branches into the wire; sprinkle some sow in heat or coon urine around and in the trap. use your boar bait, attractant outside the trap as well. Putting a line of bait going into the trap will keep the hogs busy with their heads down. This will lead them into the trap without to much suspicion.
Don't make easy for yourself. Trapping wild boar and feral hogs is hard work. Make it easy for the hogs. We put our wild boar traps in some difficult places.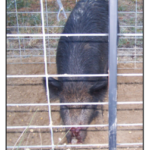 After a successful trapping, you might want to consider shooting larger fera hogs from a distance, depending on your comfort zone and how well your trap is built. Most hogs will be easy to handle, but the dominant boar can be hard to deal with if you are not use to it. Walking right up to the trap can cause quite a bit of damage, even the smaller hogs will try to bust out. Damage to their nose and your trap is common.
Smaller hogs like the ones below usually don't present any problems and are easy to manage.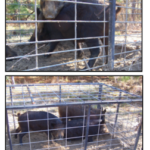 The best way to learn is to get out there and start hog trapping. Once you catch your first one. You will be hooked on it. I have been wild boar trapping for years and have just as much fun now as I did when I first started. I will often release the hogs with the best genes to keep a good bloodline. That can be pretty exciting too. Thanks for spending some time with us. For more info, check out our tips and tricks page.