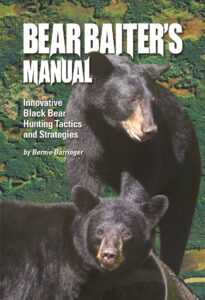 The Bear Baiter's Manual
New bear hunting guidebook offers effective systems for successful black bear hunting
By Bernie Barringer
224 Pages, 90 Photos, retail $19.99
A first of its kind book, the Bear Baiter's Manual is a comprehensive guidebook that offers tactics and strategies that will help the novice bag his first bear and the experienced bear hunter shoot the big mature bruin of his dreams.
Barringer has hunted black bears from Idaho to Maine and across Canada. Years of baiting for family and friends, combined with more than a dozen hunts with outfitters have taught him some things that simply aren't common knowledge. As managing editor of Bear Hunting Magazine, he is involved in bear hunting every day, and offers a wealth of bear hunting lore.
Chapter topics include choosing a general hunting area, choosing the right specific bait site to get the bears in during daylight, targeting mature bears, acquiring the right baits and how to use them, how much bait and how often, using trail cameras effectively, understanding the black bear and its behavior, and a Trouble-shooting Guide. The book also includes the results of a survey given to 887 bear baiting guides and outfitters across the US and Canada which offers some revealing insight into their methods.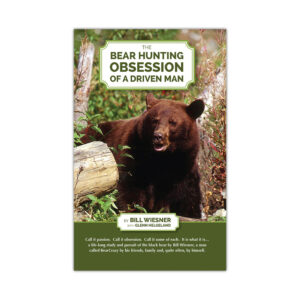 The Bear Hunting Obsession of a Driven Man
by Bill Wiesner
Bill Wiesner knows bears and bear hunting. He has taken 57 black bears. He, his wife and two sons have taken more than 100, 30 of which qualify for the Pope & Young record book and seven of which qualify for the Boone & Crockett record book. Ten hunting how-to chapters and 10 memoir chapters.
How-to chapters include black bear natural history; distribution, population & record book entry totals (by state and province); hunting gear (rifle, slug gun, handgun, muzzleloader, bow, crossbow), camo, and other necessary bear hunting items; hunting from ground blinds; hunting styles (D-I-Y, guided, hounds, spot-and-stalk); scouting; baiting and scents; new twists (food plots, calling, decoying); the shot (before, during, after); care of hide for taxidermy; care of meat (processing, freezing, recipes).
Memoir chapters include incidents, personalities and bears encountered, and family involvement during the author's growth as a bear hunter are entertaining reading.