BoarMasters Whitetail Deer Urine with Sex Glands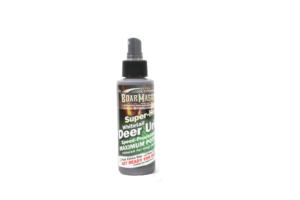 Super Hot Whitetail Urine w/Sex Gland
An exact blend of doe urine, doe-in-heat, vaginal scent, doe tarsal gland. This product is designed to drive all age of bucks crazy during the rut. All works great as a cover scent and calming scent during off season. Use in scrapes to leave a soon-to-mate essence, lay a breeding interest trail or hang in shooting lanes near stand.
Micro filtered and speed processed for maximum freshnes. Contains sex gland. Available in 4oz bottles of PURE DOE IN HEAT or DOMINANT BUCK

---
Boarmasters Deer Bait Attractants
Our deer attractants are very unique; they do not contain salt. We rely on our concentrated flavors, scents, and plant extracts to attract deer. All of our deer products and deer attractants are guide tested for two years before we release them for sale. Our TripleSweet deer attractant was found to be superior in all states tested! The concentrated flavors and powerful scents were the key in attracting more deer than all other brands tested! They are strong and carry a powerful odor that the deer love!
If you would rather send a money order than order online; that's O.K. with us. You can use our online store; print the order and send payment, or just use the "contact us button" on our website. Quality service and customer satisfaction is out main goal.
TRIPLESWEET
GREAT FEEDER ADDITIVE! 4OZ WILL FLAVOR 200+ LBS! COMES IN 4OZ AND 1LB PACKAGES. HIGHLY CONCENTRATED! ATTRACT AND HOLD!
The future in deer attractants, creates a feeder frenzy!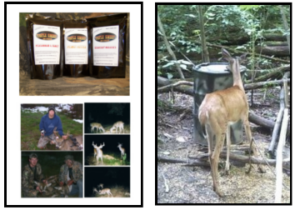 Developed on our 5,000 acres to to increase the consumption of corn, feed, and mask the taste of added vitamins and minerals. This deer product does not contain salt and is made with plant extracts and concentrated flavors like: Wild Persimmon, Wild berry Molasses, Extreme Peanut Butter and Persimmon & Honey. The deer love it! Perfect for deer feeders and states that have minimum baiting laws. One 4oz package will easily sweeten and flavor 250lbs of corn or feed. This deer attractant is very light and has a very powerful odor. Call them in for the kill!
Super Concentrated mix high in protein and sugar that not only attracts and holds deer in your hunting areas but it is also very nutritious. Add it to soybeans, corns, peas, grains or any other choice of feed. Very inexpensive and 4oz will flavor 250+ lbs. Add it to your feeder and it will sweeten the entire feeder and drop supercharged bait on the ground each time your feeder drops feed. Deer love it, they benefit from it, and it HOLDS them in your hunting areas.
Available in our 4oz feeder size packages or our 1lb bulk packs. Make sure you pick your preference of flavor at checkout. 100% guaranteed.

ANTLER MATRIX DEER MINERAL
DOUBLE THE MINERAL, HALF THE SALT!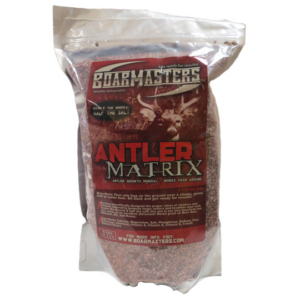 NO MINERAL MIX COMPARES! YOUR BIG MINERAL COMPANIES CUT THE MINERAL DOWN SO LOW TO MAKE HUGE PROFITS. YES THE DEER EAT IT BUT ITS MAINLY SALT! THESE BIG COMPANIES ARE BIG FOR A REASON.
OUR FOCUS IS TO MAKE A PRODUCT THAT IS MORE BENEFICIAL TO THE DEER WITH TWICE THE MINERAL!
Our antler matrix mineral mix is scientifically designed to not only attract deer but is VERY beneficial to them. In the Antler growth phase our added nutrients go straight to where they need them. Their head! We have added twice the vitamins and twice the earth minerals to help not only the bucks but the doe's and the fawns as well!
Deer need minerals year around, naturally there are minerals in the ground but not enough! Deer need an added mineral boost to really perform. Don't just start your mineral station in the fall but re-supply and get it stablished year around. We start our stations in January when the deer are preparing for their next antler phase.
We guarantee the deer will go nuts over this mix! If you are not completely satisfied with our mix please contact us for a complete refund! Thats how confident we are with our mineral mix.

CLICK HERE TO GO TO OUR ONLINE STORE AND SHOP ALL OF OUR PRODUCTS