Our wild boar hunting products, attractants and wild boar baits are perfect for hunting or trapping wild boar. They do not contain salt; they are concentrated and carry a powerful smell to bring the trophy boar in for the kill. Our wild boar attractants: Russian Mix, Nitro, and Sour Mash Xcel are top quality and continue to draw the smartest wild boar into bow range or into the trap! Available in our 4oz packages or 1lb bulk packs.
If you would rather send a money order than order online; that's O.K. with us. If you have any questions please email us through our contact us page as we normally respond immediately. Quality service and customer satisfaction is our main goal! You can use the buy it now buttons, our online store, or just print and send a money order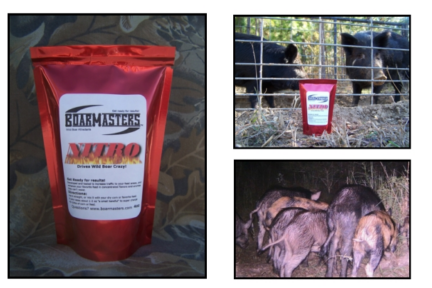 NITRO
A super sweet blend of concentrated flavors that drives the wild boar crazy! This is a sticky sweet ultra fine powder that can be used by itself or used to sweeten and flavor up to 250lbs of feed or dry corn. It has a powerful scent that will bring them out of the bottoms and thickets. This is not recomended for feeders, it will get sticky in warm weather. Perfect for traps and bait holes. Available in our 4oz packages or 1lb bulk packs.  So Strong and sweet; it's the only name that would do it justice!

SOUR MASH XCEL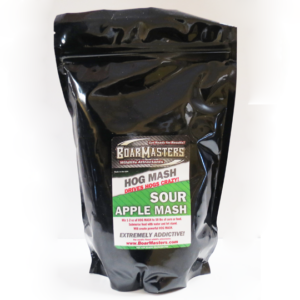 Creates an irresistible pile of Sour Mash. A  super sweet blend of a complex variety of concentrated flavors that also work just like the Nitro but has ingredients thats cause it to ferment quicker.  Turn a pile of corn of feed into an instant SOUR MASH! You can use it alone or add it to your current feed as well. Don't recommend to use in feeders as it will get sticky as well. Use in a bait barrel or feed hole. Mix with feed or dry corn, you can use water to soak it in to speed up the process if needed.

RUSSIAN MIX – WILD BOAR ATTRACTANT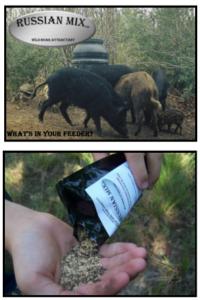 Developed and tested on our 5,000 acres to mask the bitter taste of added vitamins and minerals. Not only did it perform it's purpose; we noticed a 50% increase in daytime feedings. 4oz will sweeten and flavor 250lbs of feed or corn and it's offered in 3 great flavors that the boar love: Persimmon Ice Cream, Peanut butter cookie dough, and Blackberry molasses. Available in our 4oz packages or 1lb bulk packs. Just let us know what flavors you want in the shipping instuctions or use the online shopping cart to order.

CLICK HERE TO GO TO OUR ONLINE STORE.