BOARMASTERS SCENT CAN
Get Ready for Results!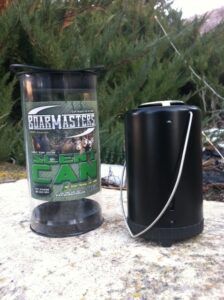 The BoarMasters Scent Can is used for burning the BoarMasters Candles. Hot scent will penetrate 500+ yards and works excellent when trying to attract wildlife!
Hot scent is the most amazing technology when it comes to getting close to wildlife. Hot scent travels quicker and farther than any type of cold or liquid scent. It does not evaporate like urine scents, it sticks to the trees and the brush and it LASTS FOR HOURS!
The Scent Can fits in your pocket and can be re-used time and time again. Its simple and it WORKS! I've been a hunter my whole life and have never seen anything that works like the Scent Can. At BoarMasters we only sell simple products that work!
Directions: Un-screw Scent can lid. Install candle of your choice Simply Light the candle and re-install the lid. Hang low to the ground or set on the ground between some rocks to keep from tipping over.
FREE 3 PK CANDLES INCLUDED, PICK YOUR FLAVOR AT CHECKOUT.


Candles
Candles last over 4 hours and come in several flavors for Bear, Hog, Elk and Deer
Candles come in a 4 pack
Candle Scents
Doe in Heat, Dominant Buck, Bull Elk, Cow Elk, Apple, Cinnamon, Anise, Earth, Corn, White Oak Acorn, Persimmon, Honey, and Curiosity.

CLICK HERE TO GO TO OUR ONLINE STORE.