Meet The Boarmasters Pro Staff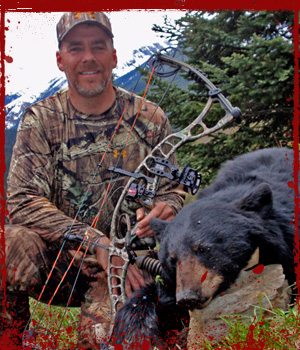 Jim Brennan
My hunting lifestyle began at a very young age with my father some 30 years ago. I was brought up in the outdoors and have been diseased with it ever since. After growing up on the East coast the move was made to the great wide open of the West. I enjoyed a 12 year career in law enforcement and traveled throughout
3-5 states a year chasing all types of species with the bow and firearm. My passion remained for the outdoors and I made a life altering decision to pursue the outdoors full time.
I have now guided for the last 5 years in Montana. I am licensed to Guide in Montana and as a Assistant Guide in Alaska. On average I am in the field 200 days either guiding or hunting as well as filming. Although bowhunting remains my favorite, I do enjoy hunting with a rifle or handgun.
I have attended a camera school put on by Realtree in Atlanta and have almost as much fun behind the camera as I do being in front of it. It adds a difficulty level to your hunt that is hard to master.
I have been fortunate enough to harvest nearly 100 animals with archery equipment and numerous ones have qualified for the Pope and Young record book as well as Boone and Crockett. Size does not matter to me as much as the experience of the hunt with new friends or strangers. Showing our younger generation to the great outdoors is going to be my new focus for the years to come.
I am currently the regional pro staff manager for Mossy Oak and help coordinate seminars and events for the great company. I will not use products that I feel are inferior in my hunting endeavors.
I feel the following companies are the best of the best and have been a part of his hunt for a long time.
I am also on the Pro Staff for the following: BoarMasters, Bugling Bull Game Calls, Muzzy Broadheads, Kenetrek Boots, Hoyt Archery, Bohning Archery, Montana Decoy, Carter Releases, HECS – Human Energy Concealment Systems, Winners Choice, and Badlands Packs.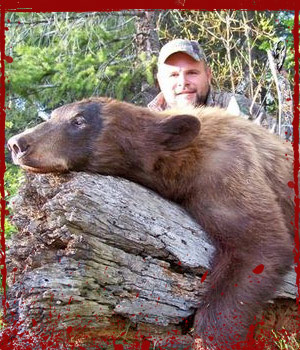 Chad Baart
Chad is the founder of Hunters Journey Magazine. He has spent many hours in the back country and beyond. With his footprints begining in the Northeast hardwoods, his feet have taken him to the backbone of America, the Rocky Mountains. With the support of many top name companies, Chad has taken animals across America while putting his body and equipment to the ultimate test. Though Chad enjoys a good hunt no matter what the species is, his heart belongs in the bear woods!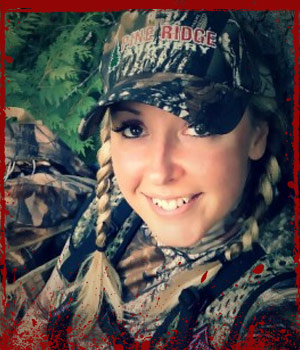 Sara Lamson
I have been hunting and fishing with my family my whole life. I have to say my dad is to "blame" for starting my outdoor addiction! Growing up I spent as much time as I could doing pretty much anything outside, such as spending time with my horses, hiking, camping, and of course, hunting.
My passion and love of the outdoors runs deep within me. I am a true four season girl and can find something to do outside, no matter the weather. I used to rifle hunt only, but thanks to my husband, son, and two very close friends (Vince and Joan) I decided to take up archery. I haven't looked back! I love the close encounters you have with an archery hunt and I enjoy shooting in tournaments during the off season. To me, hunting is not about taking the biggest game, I hunt for many personal reasons. I never feel more alive than when I am in the sanctuary of the outdoors on a hunt and it is very empowering. Big game hunting is my utmost passion, but I am looking forward to chasing new game in 2013.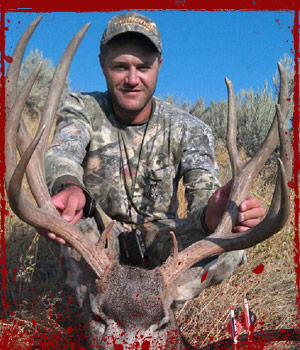 Trent Frasure
I grew up in the outdoors. This is who i am and where my passions lye. Most of my life has been spent chasing waterfowl and fishing for any and all kinds of fish. Ive fished the great lakes and rivers of idaho all the way to Alaska. Ive harvested many nice animals with my rifle but after picking up archery several years ago i havent rifle hunted since. Archery is my passion. I spend the off season competing in bowfishing tournaments, taxidermy and operating my construction business. Ive taken several pope and young animals with my bow and continue to push myself to become a better hunter and archer.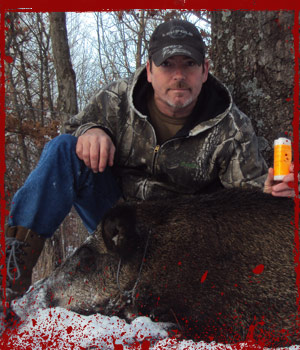 Chuck Brenner
Florida born and Tennessee raised a self made hunter that learned the ropes in the hills of west Tennessee currently reside in Southern Indiana. Father of two boys and one girl and married. While working in a factory, I bought my first bow in 1994. After five events, I began winning pretty regular by 95. The next year in 96, I competed in the world turkey championship in Indiana, and the state championship shoot in Tennessee and many more. After the competition shooting, I had racked up 3 state championships two NFAA and one TAA and won state champion of Kentucky during a world qualifier too and had competed in two world shoots.
So archery was something that always has been a part of my life since then. I now shoot muzzle loader, longbow, shotgun , compound bow, high power rifle, and many more.
I love to hunt turkey, deer, wild hog, quail, rabbit, squirrel, well most everything but mostly wild hog. I found out about wild hogs in Indiana back around 2003 and began hunting them in 2004. Since then I have killed more than 100, and still going. Only 6 were with hog dogs. My method of hog hunting is simple, just get out there and find the freshest sign and sniff em out from there. I am involved with the Division of Fish and Wildlife by giving them DNA and blood and tissue samples from the hogs I kill and have had several articles published in major magazines on hog hunting and trapping. I recently have done wild hog seminars and have taken TV personalities hunting too. Currently doing some filming with Indiana Outdoor Adventures with Troy McCormick.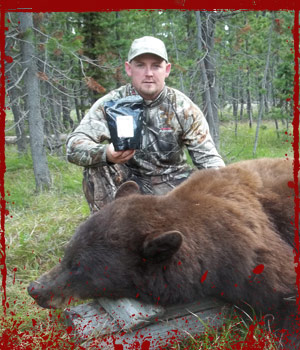 Joel Ursenbach
I was born and raised in Idaho. I am a very avid hunter and fisherman. I have been hunting and fishing for over 25 years and I have loved every minute of it. I really love anything outdoors but my true love is archery hunting. I have taken numerous big game animal with my bow. The thrill of being so close to a wild animal truly gets my blood pumping. I love the thought of "whats around the next corner", "or ridge" in my case. I am also a taxidermist when I'm not working or in the hills. I am very happy to be a part of the Boarmasters team.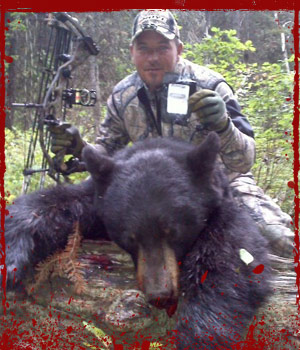 Jay Cawley
My name is Jay Cawley. I was born and raised in Utah and Idaho. I currently live in Idaho with the love of my life. Ive been Bowhunting for 15 years and have had the opportunity to harvest many animals with a bow. Bowhunting is my life. I enjoy hunting and shooting 3-d tournaments with friends and family. My wife is also a hunting fanatic, this our life and what we love. We have 4 kids and they all love the outdoors. I hunt elk, deer,turkey and bear, but my passion is the elusive black bear. Been hunting bears for 6 years and have done all i can to broaden my knowledge on bears. I believe in fair chase, a quick humane harvest, and ethical hunting.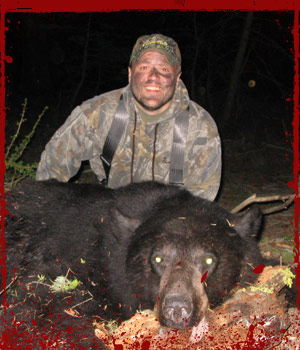 Joe Kondelis
I was born and raised in Butte, Montana. I grew up in the Big Hole Valley of SW Montana hunting and fishing. I grew up hunting with my dad and grandpa spending countless hours in the field by the time I could walk. Some of my fondest memories of hunting as a kid were going hunting with my dad and grandpa, three generations of Kondelis's together hunting. Living in the Big Hole Valley as a kid always afforded me the opportunity to spend all my time in the hills.
I love to hunt and fish however my true passion in the outdoors is bear hunting and although I love to bait, and have become proficient at it my real passion in bear hunting is Spot and Stalk. There is something that gets in my blood being out there in the spring looking over big basins for bears, they are so adept at smelling and their environment it is such a challenge.
If I am not hunting In Montana, Idaho, or Wyoming I am fishing or camping with my wife and daughter. We spend all our free time on our four wheelers our out camping in the summer. My daughter has been on 2 antelope hunts with me already before 3 and cannot wait to shoot here first Bear. She already knows how to tell a grizzly and black bear apart. I have been fortunate enough to shoot some wonderful bears and am really into wanting to help other people experience the same joy and passion for this sport I do.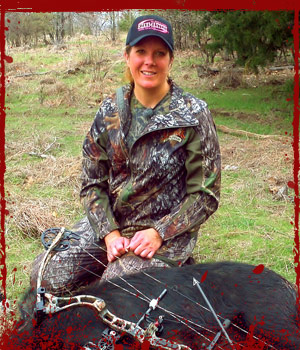 Stacey Sissney
Hi, I'm Stacy, I live in central Oklahoma with my husband, Jon, and our daughter, Maison. I have always loved doing things outdoors-camping, hiking, and fishing. I think I was about 3 when I caught my first fish. There is still a picture of me holding that little perch hanging up in my parent's house.
It wasn't too long after I married Jon that he started getting me involved in hunting and I discovered that I love it. I have done several different kinds of hunts, and I choose to use my bow over anything else. I enjoy everything about hunting, whether I am in a tree stand, a blind or doing a spot and stalk. It is such a challenge and rush to be able to get an animal within that 30 yard range and then to draw back your bow steadily enough to make that kill shot.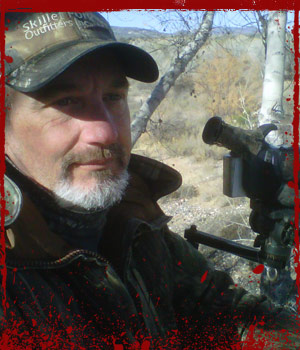 Brian Saxton
I've been so fortunate to learn filming and hunting from some of the best bear hunters over the last 30 years. My hunting hero has been and always will be Tred Barta, love his style and dedication. After decades I'm still evolving my own hunting technique that have already helped me harvest many big game across North America. My most important objective as an Editor and Hunter is to be Extremely patient and wait for the perfect shoot. It doesn't matter anymore if I'm behind the bow or camera, capturing the most nature and humane moment in time is rush that I hunt for. My home state of Arizona has many species of Big Game. It takes tons of time and dedication to hunt down Big Game on Arizona's public land. I'm fortunate to be on a quest for my 60th Big Game here in near future and just as many attempts as a cameraman and guide. I always keep those special memories on my mind as I'm packing insanely heavy and large gear packs to our hunting destinations.
My future will hopefully be filled with learning experiences to help me grow so I can pass on hunting secrets and tips to make everyday hunters successful. Here's my tip I've just learned…. BoarMasters products make hunting easier! Those animals just keep coming back!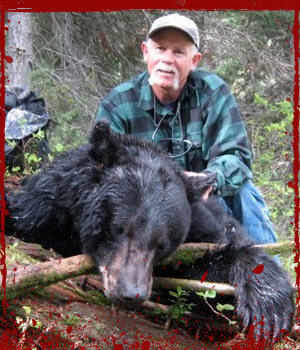 Irby Haydon
Owner of J & I Outfitters. Irby got his first hunting license in 1966 and has never missed a hunting season yet. He is a true 4 season hunter. He is passionate about the outdoors and can't imagine a better way to spend the day than pursuing game for himself or for his clients. He has hunted game successfully around the country over the years. Outfitting has increased his time spent out in the field whether preparing the hunt by setting bear baits or actually hunting game with those clients, family and friends. Hunting is not just a hobby for him, it is truly a way of life.