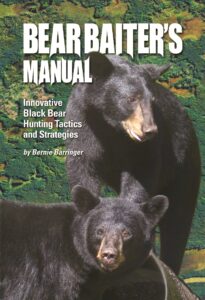 The Bear Baiter's Manual
New bear hunting guidebook offers effective systems for successful black bear hunting
By Bernie Barringer
224 Pages, 90 Photos, retail $19.99
A first of its kind book, the Bear Baiter's Manual is a comprehensive guidebook that offers tactics and strategies that will help the novice bag his first bear and the experienced bear hunter shoot the big mature bruin of his dreams.
Barringer has hunted black bears from Idaho to Maine and across Canada. Years of baiting for family and friends, combined with more than a dozen hunts with outfitters have taught him some things that simply aren't common knowledge. As managing editor of Bear Hunting Magazine, he is involved in bear hunting every day, and offers a wealth of bear hunting lore.
Chapter topics include choosing a general hunting area, choosing the right specific bait site to get the bears in during daylight, targeting mature bears, acquiring the right baits and how to use them, how much bait and how often, using trail cameras effectively, understanding the black bear and its behavior, and a Trouble-shooting Guide. The book also includes the results of a survey given to 887 bear baiting guides and outfitters across the US and Canada which offers some revealing insight into their methods.
If you have an interest in bear hunting, this is a book you must have. The insightful systems described in these pages will significantly increase your odds of putting a black bear in your sights this season.
————————————————————
CONTENTSChapter 1
……………………………………………… 13
Understanding Black Bears and Their Environment • Sense of Smell • Sense of Eyesight • Predators VS Prey • Color and Night Vision • Visual Acuity • Sense of Hearing • Sense of Taste • Sense of Touch • Do Bears Have a Sixth Sense? • Hyperphagia and Hibernation • Home RangesChapter 2
……………………………………………… 41
Choosing a General Bait Location
Tech Talk • Land Features • Technology in the Woods • Access is Important • Terrain Features and Natural FoodsChapter 3
……………………………………………… 57
Choosing a Specific Bait Location
Bedding Areas • Know the Area Intimately • Mountains and Steep Slopes • The Perfect SpotChapter 4
……………………………………………… 67
Preparing the Site and Treestand Placement
Weeding Out the Unproductive • The Right Tree • Shooting Lanes and Site Improvement • BackingChapter 5
……………………………………………… 81
The Right Bait
Scents For Opening a Bait • Starting Baits • Keep them Coming Back • Mix and Match? • Acquiring Bait • Oil and Grease • Leave it to Beavers • Bears' Personalities • Keeping BaitsChapter 6
…………………………………………… 107
Baiting Strategies
The System • Balanced Diet • Bait Opening Strategies • Honey and Bacon Burns • When to use Commercial Bear Scents • How Much Bait is the Right Amount? • How Often Should you Bait? • Positioning Baits • Barrel Strategies • The Roller Barrel • Small Holes and Big Holes • Multiple Barrels • Frequency of Baiting BarrelsChapter 7
…………………………………………… 135
Targeting Mature, Trophy Boars
Understanding Scent is a Deal-Breaker • Big Bears are Different • More Bait Less Often • Types of Bait for Big Bears • Locating Baits for Big Bears

Chapter 8
…………………………………………… 151
Trail Camera Tactics
Interpreting Trail Camera Photos • Flash or No Flash? • Time Settings • Protecting your Cameras • Checking Cams Before you Hunt

Chapter 9
…………………………………………… 175
Winning the Bug Battle
Clothing • Liquid Repellents • ThermaCELL

Chapter 10
…………………………………………… 183
Trouble Shooting Guide
Those Darn Acorns • When Baits go Dead • Nocturnal Bears • Sows with Cubs • Bears that Pattern You

Chapter 11
…………………………………………… 197
A Bit About Weapons
Broadheads: Expandables or Fixed Blades? • Rifles • Shotguns and Muzzleloaders • Crossbows • Handguns

Bonus Features

Spring Hunts vs Fall Hunts …………………… 32
Youngsters in the Woods ……………………… 54
Treestand Choices ………………………………. 74
Too Much Chocolate ……………………………. 89
You are what you Eat ………………………… 102
Wheels for Bear ………………………………….. 132
Getting Your Bear Out ……………………… 144
Hang 'Em High ………………………………………. 154
'Shroom Cravings ………………………………. 195
Choosing a Carry Gun …………………………. 208

Appendix I
Bear Hunting Laws for US and Canada ……………………. 210
Appendix II
Survey Results
………………………………………………………